Deborah Coleman
Mood:
bright
Topic: Bad And Bold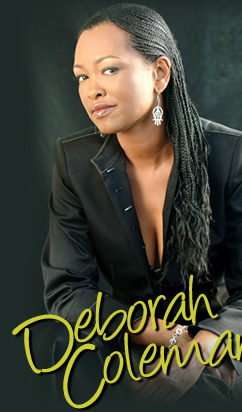 Wednesday, March 01, 2006
Deborah Coleman is unquestionably, as USA Today notes, "one of blues music's most exciting young talents." Though she has released four studio albums on the Blind Pig label that have firmly established her as one of the leading lights in the blues field, it has been her knockout live performances that have made her one of the hottest commodities on the contemporary scene.
Coleman has earned a well-deserved reputation for raw energy and crowd-pleasing shows. A highly charismatic stage performer, Coleman is able to stretch out in the live setting and demonstrate her considerable guitar skills. USA Today called her a "fiery guitarist who makes the spine tingle with her unbridled raw energy."
Among people seeing Coleman perform live for the first time, a common reaction is: "Wow, I like her records, and I knew she was good, but I didn't know she was this good." Coleman's first live recording, Soul Be It!, finally captures what Living Blues called her "fire on the fretboard flamboyance."
Given that outstanding live performances have been the hallmark of Deborah's artistry, it's fitting that she return to the live setting for her new release. Even the beginning of her professional music career was marked by a great live show - in 1993 she won a National Amateur Talent Search. The director recalls, "Coleman ruled, delivering a bone-rattling set to a capacity audience that almost shut down the contest with their demand that she perform repeated encores." Following her 1999 performance at the W.C. Handy Awards, Billboard called her "an artist to be reckoned with," noting that her incendiary playing "very effectively stole the scene." Later that year she turned in a stunning set at the San Francisco Blues Festival that had the crowd roaring its approval and critics searching for superlatives. In 2000 Coleman gave another highly impressive performance at the "Tribute To Muddy Waters" concert at the Rock and Roll Hall of Fame that wowed the crowd and generated a lasting buzz among the assembled critics and blues afficionados. In 2002 Coleman will be a featured performer on a special arts center tour of the U.S. entitled "Front Porch Blues" that will also include Charlie Musselwhite, Corey Harris, and Elvin Bishop.
Coleman was born in Portsmouth, Virginia and raised in a music-loving military family that lived in San Diego, San Francisco, Bremerton, Washington, and the Chicago area. With her father playing piano, two brothers on guitar, and a sister who plays guitar and keyboards, Deborah felt natural with an instrument in her hands, picking up guitar at age eight.
At fifteen, she started to perform with a series of rock and R&B bands. She started out as a bass player, but after hearing Jimi Hendrix, switched to lead. Radio was an important early influence. "Back then, the formats of the radio stations were more diverse. I remember hearing Joe Cocker, James Brown, Ray Charles and the Beatles on the same station." As her interest in guitar grew, she began listening to rock groups such as the Yardbirds, Cream, and Led Zeppelin, and followed the roots of their music back to the blues. "Jeff Beck was one of my favorites," she recalls. "I didn't find out until later that they were doing blues tunes and I went to find the original artists." A pivotal event for Deborah was a concert she saw when she was twenty-one that featured Howlin' Wolf, Muddy Waters, and John Lee Hooker all on the same bill. "I will never forget that show. It started me on a path to my roots."
Today Coleman's accomplished guitar style reflects the influences of Jimi Hendrix, Buddy Guy, Freddie King, Albert Collins and Larry Carlton. Her vocal inspirations are as often found in the singing of Chrissie Hynde and Patti Smith as in the recordings of Bessie Smith, Janis Joplin, Memphis Minnie, and Alberta Hunter. The fact that she's an African-American female who is a lead guitarist, singer and songwriter may make her a unique artist and put her in a category all by herself, but it is Coleman's artistry and passion that have placed her on the road to success.
When she was twenty-five, Coleman got married and put her musical career aside for a while so she could concentrate on raising her daughter, developing a career as an electrician along the way. "I raised a family, held a 9 to 5 job, then I finally decided to play music full time." Coleman got the big break she was looking for in 1993 at the aforementioned National Amateur Talent Search, sponsored by the Charleston Blues Festival. Her "band" consisted of her brother and his friend, both of whom only played heavy metal. "We rehearsed for a week, and I taught them tunes. It was the beginning of my professional career," she said. She knocked the crowd and the judges out with a performance full of confidence and fire. She took first place in the competition, and hasn't looked back since. She immediately put together her own group and began her solo career as a bandleader and featured performer.See the link for a sample of
The Soul Of Debroah



Posted by deltablues55404 at 9:04 PM CST

Updated: Friday, 21 April 2006 8:20 PM CDT