Blues News
Mood:
hug me
Now Playing: Theodis Ealey
Topic: Theodis Ealey
By Linda Seida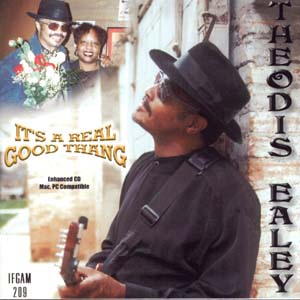 Blues guitarist and bandleader
Theodis Ealey
is a Mississippi native who first learned to play the instrument when he was four years old, thanks to instruction from big brother Y.Z. Ealey, who is about a decade older. Almost ten years later, the brothers were playing together in a band called Y.Z. Ealey & the Merrymakers, with the younger Ealey on bass. The group also included a third brother, Melwin Ealey, and appeared for the first time on stage at a Natchez, MS, nightspot dubbed the Horseshoe Circus. About 12 months later, Ealey traded in the bass for a guitar and joined Eugene Butler & the Rocking Royals, another group that played in the Natchez region. About four decades later, the three Ealey siblings played together once again during a reunion held in Georgia on the stage of the Great Atlanta Blues Revue with a fourth brother, Bubba Ealey, aka David. Until that July evening in 2001, the blues guitarist had not played with brothers Melwin or Y.Z. since 1963.
Ealey was one of 11 children raised in his family. He was stationed in Hawaii during his stint with the U.S. Air Force and spent some time in Oakland before settling down in the early '90s in Atlanta. It wasn't long before Ichiban Records took notice of his musical and vocal skills and signed him to a deal. The blues label was located in the city of Marietta and put out four of his albums over a span of six years before folding. Ealey went on to sign a contract with IFGAM, and the new label out of Atlanta issued his It's a Real Good Thing CD in 2002. While part of the Ichiban stable of artists, Ealey had the opportunity to tour Europe a few times. In 1997, he took home top prize as the Mo' Better Blues Male Artist of the Year in Atlanta. In San Francisco, he won the honor of Male Vocalist Top Star three years before. His credits include a star turn as Guitar Man in the theatrical production of Spunk, which is based on works by Zora Neale Thurston. He also appeared on television in the movies Miss Evers' Boys on HBO and A Kiss to Die For on NBC. In addition, he was featured on Ghetto Mafia's On da Grind CD. He toured the world with his band in 2002.
Posted by deltablues55404 at 12:01 AM CDT
Updated: Tuesday, 27 September 2005 12:51 AM CDT